Sumit Joshi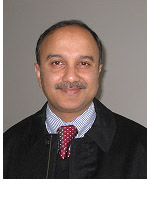 Sumit Joshi
Professor of Economics
Tenured
---
Contact:
Sumit Joshi is a Professor in the Department of Economics. He joined the Department as an Assistant Professor in 1991. He received his BA in economics from St. Stephen's College, Delhi University in 1984, an MA in economics from Delhi School of Economics, Delhi University in 1986, and his PhD in economics from Indiana University in 1991. His general research interests are in the areas of mathematical economics, game theory and industrial organization.
Within these broad areas, his recent research has focused on two topics. The first is a theoretical examination of the incentives of economic agents to form networks with other agents and the impact of different network architectures on economic outcomes. The scope of this research is quite broad and includes individual workers forming a network of labor-managed cooperatives, firms forming networks of collaborative research joint ventures, and countries forming a network of preferential trading agreements. His second area of research deals with a re-consideration of auction theory when protecting privacy is an issue. His research has been published in theoretical journals such as International Economic Review, International Journal of Game Theory, Games and Economic Behavior, Journal of Economic Behavior and Organization, Journal of Economic Dynamics and Control and Journal of Mathematical Economics. Professor Joshi has been teaching the graduate microeconomic sequence as well as intermediate microeconomics and game theory to undergraduate students.
---
Microeconomic theory and mathematical economics, growth models and dynamic equilibrium.
B.A., St. Stephen's College
M.A., Delhi School of Economics
Ph.D, Indiana University