Steven Hamilton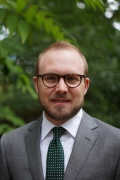 Steven Hamilton
Assistant Professor of Economics
Tenured
---
Contact:
Steven Hamilton is an Assistant Professor in the Department of Economics. He received his Ph.D. in Public Policy and Economics from the University of Michigan in 2018, and joined The George Washington University in August 2018. His research is in public finance with a specific focus on the behavioral responses of taxpayers to tax policy. In recent research, he investigates the degree to which taxpayers should be allowed to claim tax deductions by measuring the extent to which taxpayers use deductions to avoid paying taxes.
---
Public finance, and program evaluation.
Ph.D. and M.A., University of Michigan
B.Econ. and B.Bus.Man., The University of Queensland.