Irene Foster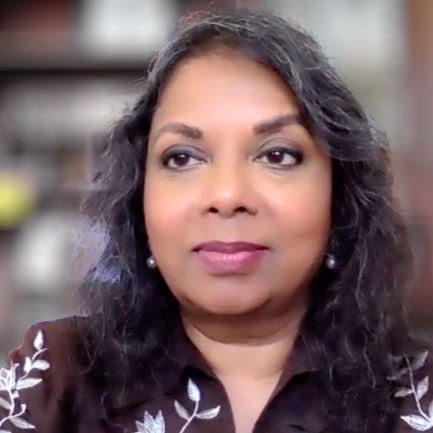 Irene Foster
Director of Inclusive Excellence and Professor of Economics
Teaching
---
Contact:
Irene R. Foster received her B.A. and M.A. in Economics from the University of Madras (India), an M.S. in Management from the Krannert Graduate School of Management at Purdue University, and a Ph.D. from the Kelley School of Business at Indiana University. Her dissertation proposal won the Alden G. Clayton Doctoral Dissertation Proposal Competition of the Marketing Science Institute and her doctoral thesis received an Honorable Mention from the American Marketing Association. She is a Fellow of the Doctoral Consortium of the American Marketing Association.
 
Prior to joining GW, Professor Foster taught courses in economics, statistics and marketing in the College of Arts and Sciences as well as in the Owen Graduate School of Management at Vanderbilt University. She also taught in the College of Business at Tennessee State University and was Interim Director of the Office of Business and Economic Research there.  Her office managed research projects for Hospital Corporation of America (HCA), Cummins Filtration, and the Nashville Metropolitan Development and Housing Authority among others. Prior to this, Professor Foster spent time away from university teaching, providing consulting services to a number of organizations including the Center for Health Research at TSU & Meharry Medical College, USAID (through CARANA Corp.), and the Sara Lee Corporation. She has received grants from General Motors Corporation, the United Negro College Fund and the Tennessee Board of Regents.
 
Professor Foster's current interests are in the areas of economic education and the assessment of learning. She works on formative assessment of math ability (are students adequately prepared for STEM courses?) as well as the assessment of student learning (what did students learn or not learn after spending a semester in a course and why?).
She has taught Principles of Economics to almost 12,000 students since she began teaching at GW in 2010. In 2013, the student newspaper The GW Hatchet listed her among the "Top Five Intro Professors You Should Take"' in its annual guide for first year students. She is the recipient of numerous teaching awards including Professor of the Year from Student Athletes, the 2012 university-wide Service Excellence Collaborative Initiative Award, the university-wide Morton A. Bender Teaching Award, and the Columbian College of Arts & Sciences' Robert W. Kenny Prize for Innovation in Teaching of an Introductory Course. In May 2014, she was selected by students to be faculty speaker at the CCAS Social Sciences Graduation Celebration. She was inducted into the Academy of Distinguished Teachers in 2015.
At the university level, Professor Foster has served as Assistant Director in the Office of Academic Planning and Assessment. She is interested in best practices in curriculum design and collection of data for assessment of learning across the curriculum. She has worked with faculty and departments across campus to understand what types of assessment data would be most useful at the classroom, department and university levels to further and deepen student learning.
She is a member of College Board's Social Sciences Academic Advisory Committee as well as a member of the Faculty Colloquium for AP Economics. She serves as Chair of ETS Princeton's CLEP Economics Committee. She is a member of Macmillan's Faculty Advisory Board for Economics. She is a reviewer for the Journal of Economic Education.
---
Economics education (formative assessment of math preparation for economics, math remediation for economics, study skills interventions and assessment of learning in introductory economics), inclusive excellence in economics and applied microeconomics
B.A. Economics, University of Madras
M.A. Economics, University of Madras
M.S. Management, Purdue University
Ph.D. Indiana University